Our Mission
"AIR's mission is to implement educational programs, reforestation, and regenerative farming methods in Central America in order to protect water sources, build soil health, prevent mudslides and erosion, prevent lung disease and provide more nutritious crops—while protecting the Earth. We choose Hope."
Our Story
In 1991, Anne Hallum was a political science professor at Stetson University in Florida, going through a difficult personal time of loneliness and loss. When Stetson announced that they needed a professor to take a few students on a trip to Guatemala Anne recklessly volunteered. She had never had a passport to travel anywhere, she didn't speak Spanish, and she knew little about Guatemala. But she learned quickly—and was haunted by the rural hunger and malnutrition she saw in Escuintla Guatemala, by the barren mountainsides and mudslides everywhere, by the strength of the people and the inspirational words of Padre Andres Girón. As Anne says, "God rescued me in Guatemala, and I found his purpose for my life."
It was not long after their first trip to Guatemala that a student suggested to Dr. Hallum that they form an organization. "It was just the catalyst that I needed so we came up with the ambitious name, "Alliance for International Reforestation," with the handy "AIR" acronym." They had a luncheon with a few people they thought would be interested—including an environmental philanthropist who shared the vision then—and still does. She gave the first substantial gift and Anne returned to Guatemala to hire the staff one by one.
Anne met AIR's first Director Christopher Wunderlich in a providential conversation in Antigua: Chris had an education in agro-forestry and was looking for meaningful work in Guatemala when he met Anne, who was looking for a Director. Chris worked for AIR for over five years and in the early 1990s, he established dozens of tree nurseries and the five-year farmer training program. Chris's approach of "community-based reforestation" was innovative at the time, but now is the norm for Sustainability projects worldwide. In late 1996, Chris moved to Spain, and Anne promoted Cecilia Isabel Ramirez to be AIR's Executive Director ("AIRES" in Spanish) because of her extraordinary organizational and leadership skills. AIRES now has a staff of eight Guatemalan professionals and twenty-five years of successful projects—and Cecilia Ramirez represented AIRES to receive the Equator Prize in 2017 from the United Nations.
In October 1996, Anne married Jan Allan Wilgers (pictured above, with Rachel Hallum), who became the leader of mission trips to Guatemala—organizing and motivating hundreds of volunteers over the years. But Jan succumbed to lung cancer in 2011, leaving behind dozens of stoves he himself built, and many friends in Guatemala. After Jan's passing, Anne's daughters Rachel and Rebecca have become very active in the organization they have known since childhood. Anne left Stetson University and moved to Atlanta, GA in 2012 in order to answer this calling full-time as AIR's non-salaried Founding President.
Our Team
All salaried staff members of AIR are Guatemalan professionals. Through our efficiency, experience, and many volunteer hours, we are able to channel an extraordinary 92% of your donations directly to the fieldwork and programs in Guatemala.
Anne M. Hallum

FOUNDER

Dr. Anne Hallum started AIR after traveling to Guatemala with university students on a research trip and witnessing the rural poverty and deforestation. Twenty-five years later, AIR's Guatemalan staff have hundreds of successful projects and with volunteers, have planted over 7 million trees.

Cecilia Ramirez

EXECUTIVE DIRECTOR

Cecilia Ramirez has been the Executive Director since 1996. She has a Degree in Business Administration from the Universidad Rafael Landivar in Guatemala City, and has been an invited member of three Boards of Directors in Guatemala that work in forestry and micro-businesses (INCOFIN, MECOFOR V, ADAM). Sra. Ramirez's organizational and motivational talent is a key reason for AIR's accountability and extraordinary efficiency in which productivity increases year after year.

Lidia Otzoy

ADMINISTRATIVE ASSISTANT

Lidia was a scholarship student with AIR, before she became our valuable AA. She is Kaqchikel Maya and bilingual.
You?
AIR's work in dozens of communities would not be possible without your Donations. You may also be involved as a Volunteer for a week in June - contact Anne for information. Read stories here from past trips.
AIR TEAM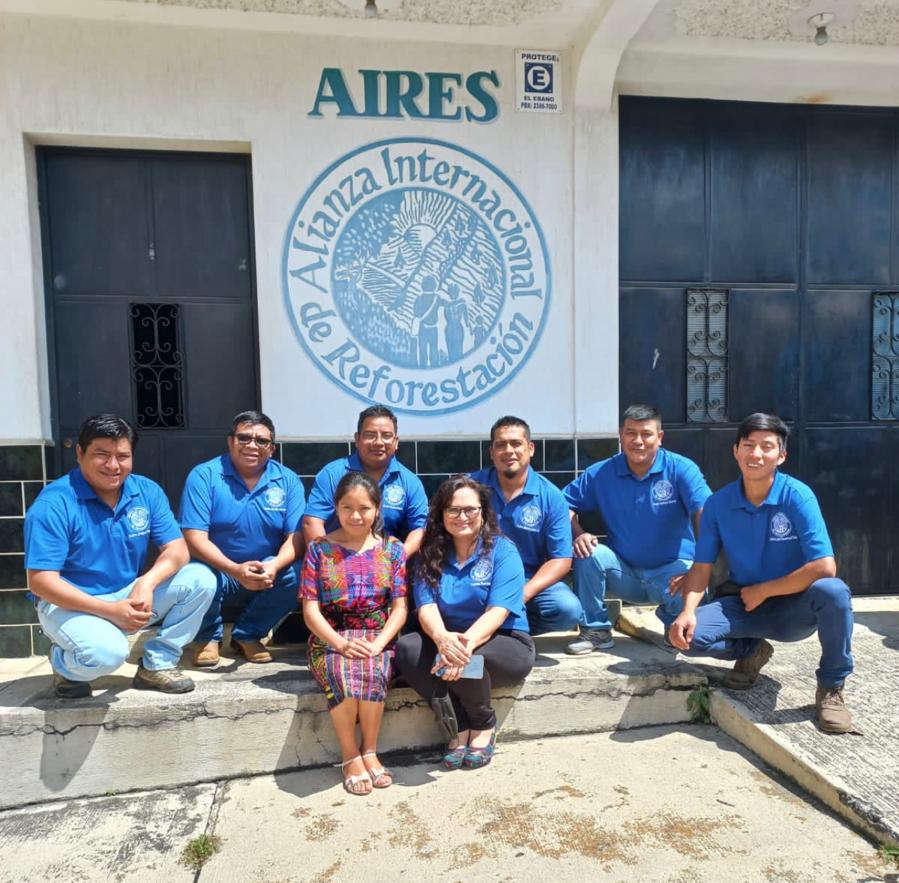 Our field technicians are specialists trained in agro-forestry and environmental engineering. They are Guatemalan professionals who come from the area where AIR works and are able to communicate in the native language of Kaqchikel and Quiche, as well as Spanish.
Left to right, BACK: Carlos Cosigua Chumil; Josue Ajcalon, Coordinator of Western Region; Victor Ruben Perez; Pedro Miguel Lopez; Fredy Iquique Socoy; Juan Leja Guarcas; FRONT: Lidia Otzoy; and AIR's Executive Director, Cecilia Ramirez
Board of Directors

Anne M. Hallum - Chairperson – Atlanta, GA

Roger Montes - Director – Civil Engineer, Philanthropist - Colorado Springs, CO

Suzanne Kosmas - Director – Businesswoman, Former US Representative, Philanthropist - New Smyrna Beach, FL

Adam Darragh - Director – Insurance Executive, Writer – New Orleans, LA

Glenda Gray - Director - Actress, Philanthropist – Alpharetta, GA

Rebecca Hallum - Director - Nonprofit Attorney, Presbytery Liaison - Atlanta, GA

George Winsten - Director - Business Dev. Solar Stik, Inc., Stetson University liaison - St. Augustine, FL

Dr. Caity Peterson - Director - Ecologist - Longmont, CO

Fatima Ramis - Director - Development Director at Jacksonville Zoo - Jacksonville, FL

Christopher Stubbs – Director – Founding President, Link Staffing Services – Rotary International Liaison - Sanford, FL

Rachel Mamadi - Director - Teacher - Dunwoody, GA

Cecilia Ramirez - Executive Director, AIR, Inc. - Chimaltenango, Guatemala

Dr. Ken McCoy - Director - Professor, Stetson University - Deland, FL

Carol Ivey - Director - Educator - Orlando, FL